A turf war centred around the trade of drugs in the Strathclyde area where of all people Ice Cream Truck drivers were employed by the various criminal organisations as a mode of distribution. Soon conflicts began occurring between the various factions driving the ice cream trucks.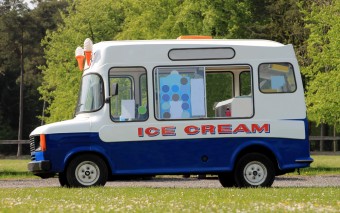 The drug trade is notrious for the hideous violent crimes it seems to inspire such as in the recent cases of the Mexican Cartel's mutilations and other various organisation condemnable actions. Despite the almost comedic premise of The Glasgow Ice Cream Wars the violence was not excluded with drive by shooting regularly happening between the Ice Cream Trucks in several cases.
The violence ultimately culminated in an act of arson against Eighteen Year old Andrew "Fat Boy" Doyle. Described by the culprits as a "frightener" they doused the Doyle's family home's front door step in gasoline and set it alight. Guests were staying over and all inhabitants were asleep as the fire consumed the house. 5 people died on the scene with another dying at the hospital.
The perpetrators of the arson Campbell (left) and Steele leave court
A huge backlash was sparked in the public by this act of violence that had been building up to over a long period with no actions being taken by the Strathclyde police. The serious crime squad was blasted by the media in the following days as the "serious chimes squad" for the perceived failure to prevent the tragedy that occurred to the Doyle family and other victims of the Glasgow Ice Cream Wars.